Understanding People is Key to Organisational Success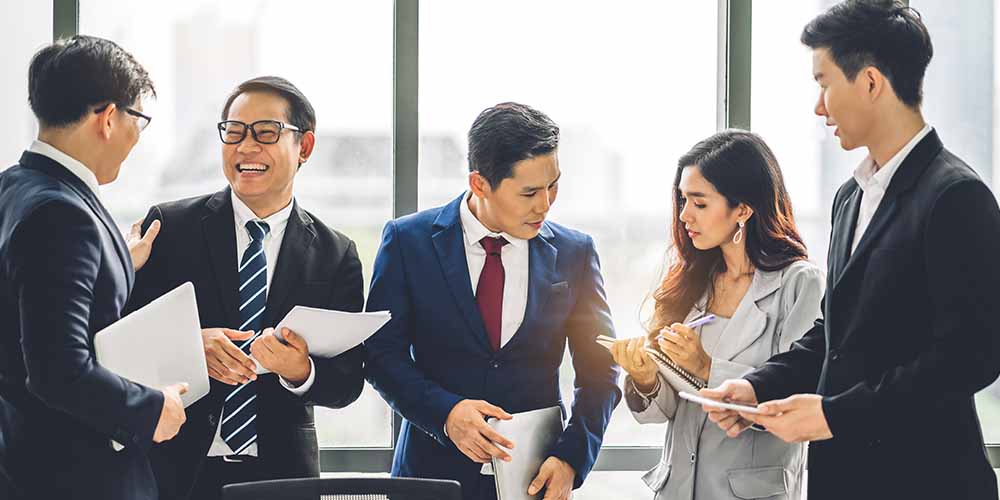 Understanding People is Key to Organisational Success
When we think about business success, there's often a temptation to fixate on cash flows, inventory, and profits. While there are vital measures of a profitable business, the critical differentiator in success is often down to people.
We've all had experiences that show the value of people to a business—that worker who went the extra mile to overcome a challenge, the waiter who made it easy to enjoy your meal, the customer service assistant who took time to compassionately answer a question. These interactions not only build customer loyalty, they're obvious examples of the power of people to deliver on an organisation's business goals. 
Great leadership is about recognising and nurturing the interaction of people and teams to keep a business running smoothly, understanding individual and group behaviours, and building an environment where people are in a position to support the goals of the business. 
People management is business management
The right people management strategies are an invaluable asset to a business. They should be designed to promote cooperation and communication, creating a collaborative work atmosphere where everyone is empowered to deliver their best for the business.
This kind of people management theory encompasses the end-to-end lifecycle of employment and operations, from identifying and on-boarding talent, optimising performance and internal collaboration, dealing with conflict or disagreement, through to off-boarding employees in a way that adds insight to your future operations.
Meeting the needs of employees is critical in a competitive employment landscape. A Boston Consulting Group (BCG) survey of 6,600 business leaders in 113 countries released in 2021 revealed that 85% of respondents believed that focusing on employee needs and expectations is a key success factor in the competition for talent.
The report also highlighted the remarkable challenge facing talent acquisition and people management in an age of digital transformation, requiring leaders and HR managers to define a smart work strategy and workforce structure to fit this changing landscape. Employee relations and policy management were the two most important human resources (HR) topics identified in the study.
Good people management isn't just about top-down strategy though. It's also about understanding how and when to delegate responsibility and demonstrating the trust that offers autonomy and allows the workforce to feel valued. Equally important is the ability to resolve conflicts or disagreements in mutually agreed ways that allow both parties to feel valued while encouraging a workforce that can challenge decisions and offer points of view when needed. 
We know the world of work is changing. The approaches of management must change too during an uncertain time for both leaders and employees. In that environment, strong leadership is as much about listening to and addressing employee concerns as it is stamping out a visionary plan for market growth. Without the people to power your processes, you're unlikely to generate the outcomes you desire for your enterprise. 
Empathy is a big part of modern leadership, and it's an area of soft skill development that is explored in our own MBA. The ability to empathise with staff, understand their challenges, and creatively problem solve to address them is a super power in a workplace undergoing rapid transformation. The more you understand, the more power you have to deliver change. 
Positive people management and organisations
People and organisational management aren't just about pure human resource management however. It's about creating an atmosphere that empowers the workforce to succeed. That means making a positive working environment that delivers a positive impact.
Research by Oxford University's Saïd Business School found that happy workers are 13% more productive, demonstrating a clear link between the workforce environment and the outcomes for a business. This is backed up by a University of Warwick study that shows happiness made workers 12% more productive. 
This kind of positive motivation begins with you as a leader. One study of over 350 managers in the United States found that leaders with a happier and more positive attitude were rated as more transformational by subordinates. 
The truth is relationships matter—between leaders and subordinates, between workers and peers, and between internal and external partners. The People and Organisations subject of Sunway University Online's MBA is designed to help you understand the complexities of human organisational behaviour, looking at key interactions between individuals and teams. It is focused on enhancing your people management to optimise the outcomes for your business. 
The subject will help you to analyse complex and integrative knowledge of both theories and practises of organisational behaviour, and the causes and consequences of behavioural issues within the workplace. This is about teaching you how to manage potential challenges, and unlock a positive workplace that offers a better place to work while driving better business results.
The Foresight Leadership and Management subject will help you further evolve your leadership skills for our digitally-connected world, showing you what it means to be a good manager in the context of Industry 4.0. It will enhance your ability to communicate and lead in this environment and look at how to build trust and inspire teams to succeed. The elective subject Leading in the Age of Digital Disruption will offer an even more focused look at how digital innovations are changing leadership in the modern workplace.
It's clear that the world of work is changing. Industry 4.0 offers a remarkable vision of a future employment environment, as automation replaces low-skilled jobs while unlocking new opportunities in emerging areas. This period of disruption will require compassionate and informed leadership like no other. It also promises a landscape where the skills of collaboration will become even more important, as dynamic operating models see teams and individuals working across a wide range of operational areas. 
Profits and growth will continue to be hard metrics by which businesses are measured. Underlying those clear numbers is a more intangible but equally important factor of business success—the power of people. Building your understanding of organisations, people, and interaction will provide you the tools to supercharge that people-focused opportunity.