Build Business Skills for Leaders in the Modern Landscape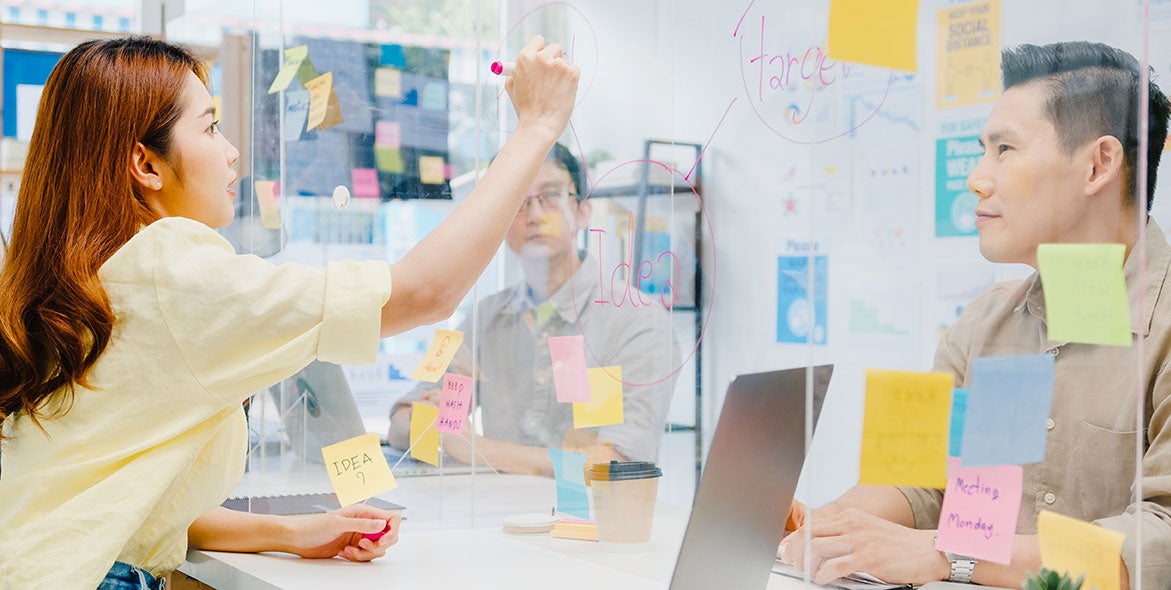 The modern business landscape is changing, as digital technologies connect us to markets, partners, and opportunities across the world. This evolving business ecosystem is transforming the expectations and business skills for leaders.
The Master of Business Administration (MBA) at Sunway University Online is uniquely designed to help your career thrive in this rapidly evolving landscape, working to create empowered and informed leaders of tomorrow.
Creating the leaders of tomorrow
The days of a traditional leader cocooned in a distant office are increasingly a thing of the past. The modern leader must embrace attributes like strong communication and cultural intelligence. These skills enable them to connect with and inspire their staff while communicating effectively with a diverse range of partners worldwide.
Digital technologies also place new pressures on leaders when it comes to how to successfully steer and inspire success in business. Enterprise operational processes, access to customers and markets, and day-to-day administration are all increasingly hosted in a digital realm. This evolving business trend is framed by a growing need to embrace agile approaches that build resilience through flexibility. Rigid structures are at clear risk of leaving leaders overwhelmed and organisations falling behind the competition.
This period of ongoing transformation has received a further jolt in the form of the global COVID-19 pandemic. Disruption became the norm in 2020-21, as vital but restrictive public health measures, strained supply chains, and a rapid shift to digital operations triggered a remarkable period of change for businesses.
The power of problem solving for leadership
In its 2021 CEO Study, global technology giant IBM revealed how the attitudes of leaders are changing in this environment. 56% of CEOs surveyed emphasised the need to aggressively pursue operational agility and flexibility.
The Design Thinking and Creative Problem Solving course in Sunway University Online's MBA programme was developed to meet this pressing need, building beyond the fundamental frameworks of business administration to develop your understanding of how organisations respond to problems, disruptions, and opportunities.
Digital technology is an important part of this disruption in the modern landscape, with transformative platform technologies such as the Internet of Things (IoT), cloud computing, and artificial intelligence (AI) identified as key drivers of success in coming years. Adopting the right business skills for leaders means embracing these digital business trends.
McKinsey and Co project that between 3.3 million and 6 million jobs will be created in Malaysia thanks to Industry 4.0. These jobs will be predominantly high-value and technology-driven roles. This is why our own MBA provides a dedicated course on Managing Technology and Innovation, helping leaders evolve to embrace an agile mindset in our digital age.
People drive success in a modern business
The changing work landscape isn't simply defined by the challenges of disruption and emerging technologies. Access to talent and effective people management are fundamental to a modern leader, recognising changing perceptions and expectations of employees and partners.
In its 2021 Global Talent Survey of over 209,000 people in 190 countries, Boston Consulting Group (BCG) revealed the remarkable global attitudes to work. More than half (57%) of respondents were willing to work remotely for an employer without a physical location in their own country, showing the globally connected nature of virtual talent.
That means new leadership skills to connect, engage, and manage in-demand talent in often remote operating environments. Almost nine out of ten respondents (89%) aspired to some form of hybrid or remote work post-pandemic.
Leaders not only need the skills to adapt to this landscape, they need to recognise what appeals to workers in a changing world of work. Good relationships with managers and superiors, and a good work-life balance were the most important workforce attributes identified in the BCG study.
Sunway University Online's MBA programme doesn't just focus on the hard technical skills of management, but provides you with key understanding of people too. The Foresight Leadership and Management course will help you understand what it means to be a good manager and provide effective leadership in the modern landscape of digital disruption and Industry 4.0.
Upskilling in a changing work landscape
Workers too recognise the need for upskilling in order to reinforce valuable skills and talent. According to the UOB ASEAN Consumer Sentiment Study, 91% of Malaysian employees see the need to reskill or upskill in the future.
Sustainability and corporate social responsibility (CSR) are also critical to effective modern leadership. Employees are increasingly assessing the social consciousness of a company alongside simple metrics like salary in making their job choices. This has likely been further influenced by the period of disruption and reflection during the pandemic. 70% of workers in the BCG study said environmental responsibility matters more than a year ago, and 51% wouldn't consider an offer from a company that doesn't share their beliefs on diversity and inclusion.
Our MBA is designed to tackle these concerns, creating sustainable and ethical leaders of the future. The People and Organisations course is designed to help you understand human organisational behaviour and the complex interactions between teams and individuals, while the Strategy Frameworks and Sustainability course will help you design competitive but sustainable strategies for this changing workforce landscape.
The power of purpose to unlock potential
Achieving these ambitions isn't simply a case of attracting talent and providing a positive working environment. Almost half (46%) of CEOs of the outperforming companies in IBM's study view purpose and mission as essential to employee engagement, and 77% view employee well-being as crucial.
The business landscape of today is radically different to that found in dusty textbooks of decades gone by. It requires an MBA uniquely designed to tackle that environment—not just providing you the tools to thrive today, but helping you build understanding of processes and platforms that allow you to adapt and succeed tomorrow.
The future of work is changing. Leadership is changing along with it. The question is — are you prepared as a leader?