Why Is It Important To Speak To An Enrolment Advisor?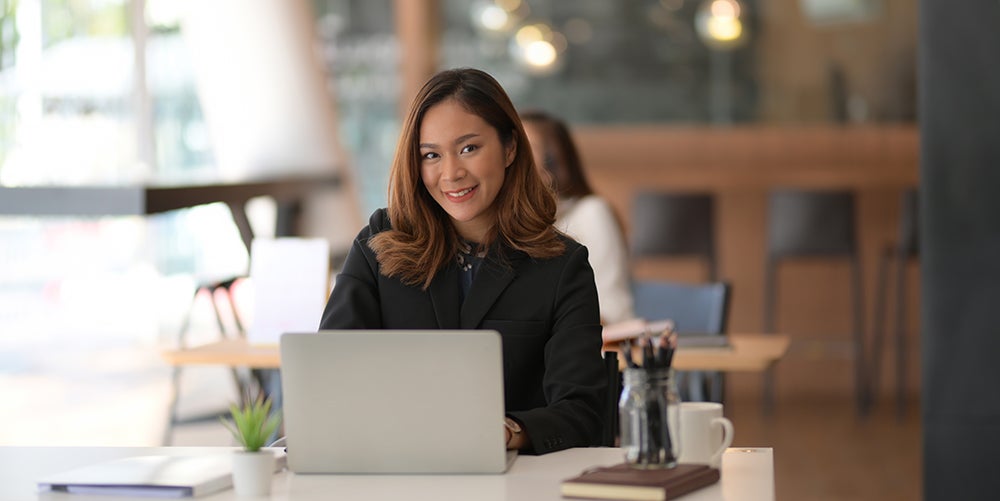 Choosing the right master's programme for your career goals and lifestyle isn't an easy decision.
That's why Sunway University Online highly recommends that you speak with one of our experienced Enrolment Advisors to help talk you through this process.
Every individual is unique, which means they face unique aspirations, goals, and challenges. We want to support you in understanding whether we are the right programme choice for you.
When should I reach out to an Enrolment Advisor and what questions can I ask?
From the moment you make initial contact with our team, you will receive a dedicated Enrolment Advisor who will be available to chat with you whenever you need.
They will provide further information to help you make an informed decision on the next steps for your study journey. The Enrolment Advisor will guide you through the process, providing a helpful point of contact to contact for any and all questions throughout your end-to-end application.
Questions your Enrolment Advisor will be happy to help you with
Am I eligible for the programme?
Sunway University Online offers master's programmes designed to meet the needs of the forward-looking modern student.
We recognise that the question of finding the right programme won't have the same answer for everyone.
The first step is understanding where you're starting from. Sunway University Online provides a free, no-obligation eligibility assessment for everyone considering applying for a programme.
Simply submit your resume, bachelor's transcript and IELTS/TOEFL results (if available) to eligibilitycheck@studyonline.sunway.edu.my for review, and our experienced team will assess whether you qualify for the programme.
Eligibility checklist
Resume
Bachelor's transcript or APEL certificate
IELTS/TOEFL results if bachelor's education was not taught in English*
*this can be handed in later if not completed yet
After you have submitted your documents, we recommend that you schedule a call with one of our Enrolment Advisors to discuss the result of the assessment. During this initial call, the Enrolment Advisor will not only be able to discuss your eligibility, but also give you the opportunity to ask any other questions you may have.
How will my programme be structured?
We know our students are also keen to understand how the programme is structured, and how it works to ensure the greatest possible flexibility in your study.
Our experienced Enrolment Advisors will be able to offer insight on how the block model for study works, the time for each module, and the order of learning.
Who will I be learning from?
Enrolment Advisors can also talk you through the world-class education you will receive from leading educators and industry experts at Sunway University Online, discussing their experience and areas of focus.
What subjects will I study and what will I learn?
Our team will be able to talk you through the modules you will study as part of your programme, including any elective pathways that might be available.
When is the next application deadline and entry point?
Masters at Sunway University Online have five entry points throughout the year. Your Enrolment Advisor will be able to discuss your options, talk through the deadlines for application for each entry point, and find the programme start date that best fits your needs.
What is the difference between online and on-campus study?
Your Enrolment Advisor also offers invaluable help exploring the differences between online and on-campus study, and how an online learning environment from Sunway University Online guides you through the virtual learning process.
How can I fit study into my busy lifestyle?
Enrolment Advisors are experts in providing advice on time management and how to fit online study into your busy lifestyle. At the same time, they will be honest regarding our expectations of our master's students. It's important you understand the workload, types of assessment, and projects which will be included in your master's programme. That's the best way to understand if it's the right fit for you.
What support will I receive throughout my study journey with Sunway University Online?
Your Enrolment Advisor will also provide you with more information on the support network that you will have access to throughout your journey.
That includes a dedicated Student Success Advisor, as well as engaged subject facilitators who work with small groups of students during every block of study, alongside the benefits of comprehensive peer-to-peer support and networking opportunities.
What funding options do I have?
Costing and payment are also essential elements of the further education process. Your personal Enrolment Advisor will help talk you through how that works, the payment schedule, and all funding options and payment processes which are available.
How do I go about booking in for an IELTS/TOEFL test?
With Sunway University Online courses requiring evidence of English language ability, our team of Enrolment Advisors will also be able to help you through booking a necessary IELTs of TOEFL test.
I don't have a bachelor's degree, how can I get an APEL certificate?
Our team will be able to guide you through the process for acquiring Accreditation of Prior Experiential Learning (APEL). This is an important alternative to evidence educational achievement for a postgraduate programme at Sunway University Online for students without a bachelor's degree.
What are the next steps for me to apply for a programme with Sunway University Online and what documents do I need to submit?
Our experienced Enrolment Advisors will help you navigate through the application process, advising you of the necessary actions and documentation required at each step on the journey.
Make the right choice for you
Speaking to your dedicated Enrolment Advisor is an important step to make the right decision for you and your career. That not only means understanding the value and opportunities an online master's at Sunway University Online can provide you, but also ensuring you're aligned with the expectations and goals of the programme.
With an Enrolment Advisor to assist you, we're committed to ensuring that your relationship with Sunway University Online is a positive one right from the start.
Take the next step towards earning your master's degree today and schedule a call.