7 Industries Powering Up With Master of Data Science Degrees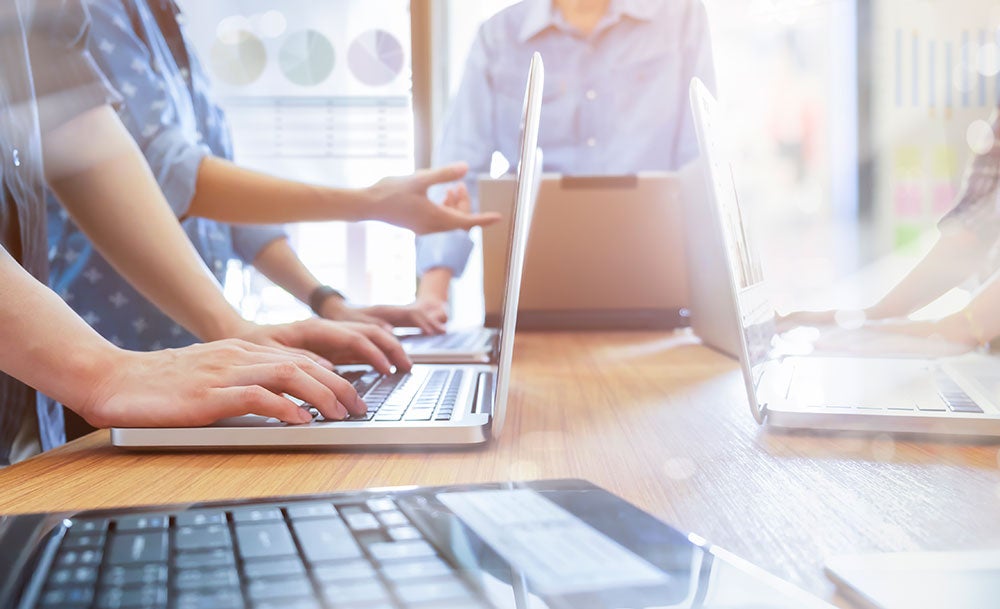 Data is an increasingly important differentiator for business success, as companies across a wide range of industries seek to optimise decision making, improve efficiency, and enhance market opportunities.
A Master of Data Science degree could unlock a whole ecosystem of opportunities for a successful graduate in this changing world of work. Our online data science masters programme is designed to help you succeed in this exciting environment, offering skills and understanding to thrive in the modern business landscape.
So where do you want to go? Whether it's onwards and upwards in oil and gas, or tackling the big numbers of our global financial markets, data science is your path to potential in these 7 key industries.
1. Oil and gas
The volume of data in the oil and gas industry has expanded massively in recent years, primarily driven by machine-to-machine data generated in areas from geological surveys and drilling through to end consumption.
There's no denying Malaysia's oil and gas credentials. We are the second-largest oil and gas producer in Southeast Asia, and fifth-largest global liquified natural gas (LNG) exporter. That means oil and gas is a huge engine of growth and critical national industry.
Oil and gas is facing a pivotal moment in industry evolution. Volatile global demand is increasingly balanced against the need for ultra-efficient operations in the face of a global energy transition. The industry is seeking new, digital and data-driven paths to optimise operations, improve efficiency, and undertake production in the most resource-efficient manner possible. Data scientists are critical to that story.
Chief Digital Officer of Petronas, Aadrin Azly, recently said "data is the new oil." A certified data scientist is a precious resource in this key national industry.
2. Power and energy
Data is helping transform power and energy, providing valuable insight into demand and consumption and helping with integration of exciting new renewable technologies. This sector is part of critical national infrastructure, which means efficient operations and rapidly identified faults are vital.
Like the oil and gas sector, the power and energy sector is also facing a growing pressure to transform to less carbon-intensive operations. That means increasing the share of renewable energy in the power mix. Balancing the supply and demand of this zero-carbon energy requires complex data understanding, incorporating elements such as detailed weather forecasting, demand forecasting, and network power analysis amongst other factors.
National utility Tenaga Nasional Berhad (TNB) is leveraging big data analytics to improve operations across its portfolio, including at the large-scale solar (LSS) facilities that are central to the renewable energy transition. Private firms like clean energy leader Solarvest are also leveraging automated, data-driven decisions and analytics to optimise operations. If you want to power up to new opportunities in data, then power and energy is a great place to look.
3. Financial services
Complex data understanding is key for a range of activities in the financial services sector. It allows informed decision making on applications for credit, helps protect the likes of banks from fraudulent activity, and even opens up competitive market opportunities.
Financial services is an industry quite literally built on numbers. Whether you're looking to grapple with insurance or get to grips with solvency in the banking sector, data is transforming traditional operations in this legacy industry.
Thanks to the increasing use of digital and mobile services, data scientists are even contributing to an evolution in the industry to deliver personalised products and services that improve financial access and help build a more inclusive banking ecosystem. The recent release of digital banking licenses in Malaysia means even more demand for data scientists within the financial services industry in the future, as digital-first models play an increasingly prominent role.
4. Digital ecosystem platforms
It probably comes as no surprise that data understanding is vital for innovative digital startups and technology players. That includes exciting platform companies like Lazada, Shopee, Grab and others.
Nothing perhaps shows the value of data quite like the meteoric rise of these companies. They operate through digital platforms with complex data analysis that helps them better target the audience and fulfil customer needs. Swipe a ride on Grab? That's a data point. Click a product on Lazada? That's another data point. Now imagine trying to build insight and target your offering across billions of clicks and swipes every day.
Qualified data scientists are the foundation of these industries. You could click on to a world of digital opportunities in this rapidly expanding digital ecosystem with a Master of Data Science from Sunway University Online!
5. Media and entertainment
Journalists use data to inform news stories and identify emerging trends. Entertainment platforms analyse huge volumes of data about watching trends to target release dates and inform commissioning of new shows. Even sports media uses complex business analytics and data analysis to help decision makers in areas such as commercial rights bidding and broadcast times.
Data is about building understanding. That means it's an important part of the media and entertainment industry. Everyone from news corporations to streaming services like Netflix leverage data to define their offering in an increasingly competitive market.
If you're after a career in the exciting industry of media and entertainment, then data could be the trending topic that gets you in the door.
6. Environmental industry
Data isn't just about business success, it's also being used as an increasingly important tool to protect the natural world. Data gathering, analysis, and communication is key to building informed consensus across stakeholders in both industry and government, helping monitor and manage the environmental impact of development while looking at ways to enhance the resilience of the natural world.
Malaysia is one of the nation's few megadiverse countries as recognised by the UN's World Conservation Monitoring Centre. That means we all have a responsibility to protect this rich natural habitat. Data scientists are an important part of this mission
There is huge scope for data science applications in environmental protection. It can include virtual models which help us understand the climate impact of our actions, or datasets to inform artificial intelligence (AI) systems analysing things like pollution maps or climate-related impacts. It can even mean exciting new ways to track animal species or the interactions with our own human footprint. If you want to develop a sustainable career that could really improve our planet, then data science offers green shoots of hope.
7. Transport and mobility
With a growing global population, we're facing increasingly important questions about how to travel efficiently while reducing our emissions. Data is helping transform that opportunity, optimising travel routes in everything from logistics to public transport. This will be an even more vital opportunity when it comes to a world of automated transport, with self-driving cars literally building our transport networks on the quality of data we use.
Electric vehicles and micro-mobility are also offering new areas of growth potential, as new and evolving technologies like electric cars, electric bikes, and even electric scooters change how we get around! If you want to get into an industry where data quite literally drives opportunity, then transport and logistics is a fantastic area of exciting evolution.
Get to grips with your future opportunity with a Master of Data Science from Sunway University Online