7 Smart Study Tips For Students of Online Programmes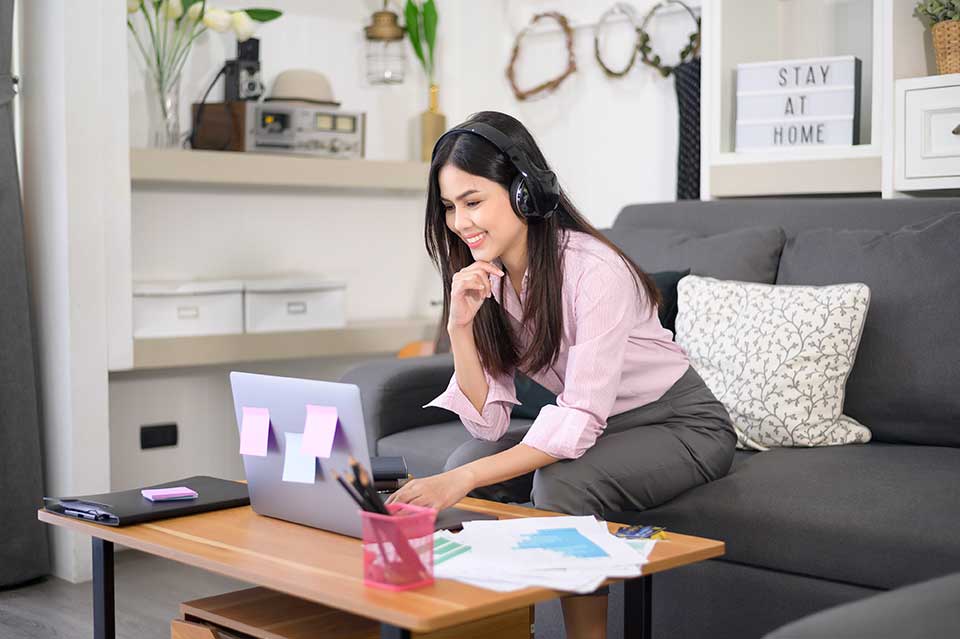 Online study is an exciting opportunity to achieve your education goals. But to get there, you're going to have to get stuck into some hard work!
Working out how to study effectively is an important part of that process. Finding the right space, the right attitude and the right system to succeed is key.
The Master of Data Science and Master of Business Administration programmes at Sunway University Online are uniquely designed to support you through that process. That means empowering you with the tools and tips to succeed.
Let's get started with an essential part of education – studying! Here are 7 smart study tips for students of online courses to succeed.
1. Create a positive workspace
Finding the right mindset to study effectively is important to any student. That's something worth planning out properly if you're studying remotely.
Find a space in your house that you can reserve for study. It should be quiet and without any distractions if possible. A desk is ideal if you've got space, but what's most important is somewhere you can sit comfortably and have space to go through your notes.
You can use little prompts to 'change' a space (and your mindset) if needed. Think of little tricks like sitting in a specific area or seat, or changing the space with simple decorations to make it feel like study time.
A nice quiet café, a public library, or even maybe some spare desk space at your workplace could be great alternatives, as these spaces can also create a nice ambience and positive mindset for study.
2. Check your equipment and internet connection
This is an obvious place to start, but an important one. Check that your study devices such as laptop/computer, tablet or smartphone are working ok, that your internet connection is stable, and you're all set up to study. Make sure your devices are fully charged if you're planning to study on the go.
Sunway Online programmes are designed to be entirely paperless, giving you a fully flexible digital education with no downloads and no tedious paperwork. Everything progresses step by step, even your tutorials.
Aside from your device, be sure not to forget the other little bits and bobs either. Depending on your study preferences, this can include things like working pens, a good notebook, and anything else you require. There's nothing worse than being fired up and ready to go, only to be let down by a logistics error in your equipment.
3. Keep focused
Some students find it hard to stay focused when studying. The important thing is to avoid distractions! It's always best to block out your study time for the upcoming week in advance and try to stick to your plan.
When it's time to study, turn off distractions like TVs and mobile phones, or at least mute notifications, so you're not getting dragged away all the time. Consider putting your hand phone in flight mode. You could even try downloading one of the helpful apps that limit or restrict your screentime on phones to block distractions when studying.
4. Keep a diary
Everyone works at different speeds depending on their confidence and their comprehension of a particular topic. Keeping a diary of your study time can be a great way to see how and when you're getting work done.
There are loads of great online tools you can use to keep yourself organised. Consider setting up an online Google, Apple, or Microsoft calendar that easily synchronises with your device, or download an organiser app to help you keep on track
A diary will help you work out how much time commitment you need for each course in your programme, and mean you're not suddenly running out of time at the end! It's also a good way to assess just how focused and successful your time set aside for study is.
5. Take notes
Just like an in-person course, it's important you take notes on your online programme. It might seem a bit strange since you can access resources when and where you need them, but taking notes is an integral part of reinforcing learning.
Taking notes means you not only capture key points for quick reference later, but you embed the memory of your learning that little bit better.
6. Reach out for support
Just because you're working remotely doesn't mean you should be disconnected. Reach out to your tutor for help with particularly tricky parts of the course, or even reassure you that you're on the right track. You can also contact your Student Advisor if you have questions about anything non-academic such as your study path, tips and tricks for time management and staying motivated.
We also recommend finding a study buddy who is completing the programme at the same time. This is particularly helpful with staying motivated and organised by, for example, discussing your learnings and bouncing off ideas.
7. Have fun!
So many people stress about studying, they forget to have fun! If you've chosen an online MBA or Master of Data Science at Sunway University Online, you've chosen an exciting and engaging opportunity to learn new things and expand your opportunities. Something like that should be fun.
Relax and take time out for some light course reading in a café, set up a group call with your student peers and chat through the topics, or find some other way to engage with the course in a way you enjoy. It's far better to be engaged and enjoying yourself than stressed and worried about your work.
Yes, it's important to take study seriously. That doesn't mean you can't enjoy yourself along the way.