Inspire a Valuable Path to Management with an MBA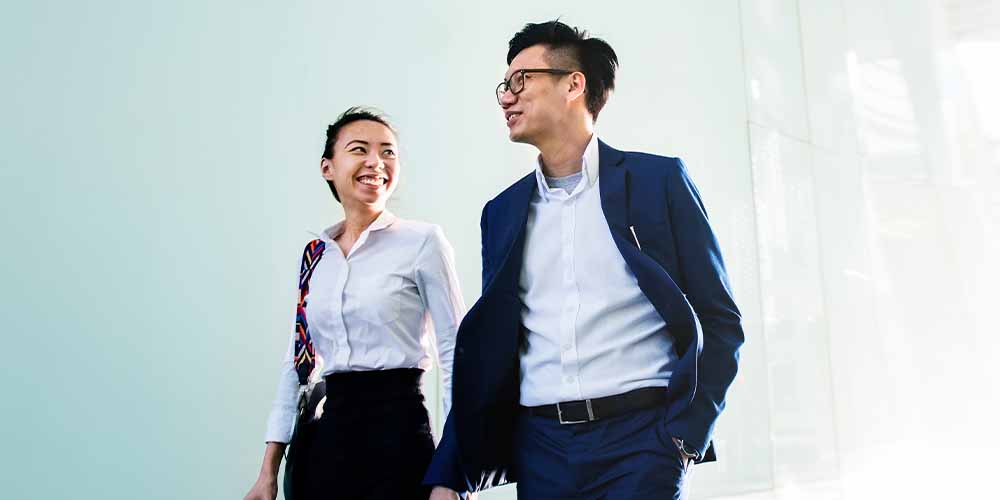 A journey of a thousand miles begins with a single step. This famous quote by Chinese philosopher Lao Tzu encapsulates the idea that achievement and success emerge from having the will to take that first step towards your goal.
That saying also holds true in the world of business. Aspiring business people who look towards the ambition of achieving leadership—gaining a position in the coveted world of B-level, D-level, and even C-suite management—also begin with a first step. For many successful leaders, that begins with a Master of Business Administration (MBA) degree. 
Becoming a top decision maker in a business begins with your own choices. That's why Sunway University Online's 100% online MBA is designed to offer a valuable step on the path to becoming an executive, and provide the framework to guide you as a sustainable, ethical leader of tomorrow.
The aspiration and inspiration of management
Management is a major aspiration of many students who take our online MBA. That means those who wish to achieve the role of directors under D-level leadership, or managers such as regional managers, office managers, or marketing managers.
The ultimate goal for some is of course C-suite. C-suite is a term widely used in business to describe executive roles with the much-desired 'Chief' title. Whether you want to be a chief executive officer (CEO), chief financial officer (CFO), chief operating officer (COO), or chief information officer (CIO), the catch-all term of C-suite is where you're aiming to end up.
Management roles, regardless of the level you aspire to, come with big responsibilities. That's not just to deliver on the value to the company, but to nurture and develop the employees and talent within your organisation. In our modern world, this will also involve reliance on strong business ethics which are increasingly in the spotlight around the world. 
Of course the rewards for this responsibility are significant. On a purely financial basis, management roles often include welcome salary increases from subordinate roles. C-suite leadership roles in particular could unlock a career with a significant annual salary and related remuneration. 
Research undertaken in Malaysia by recruitment firm Michael Page shows that C-suite roles earn an average annual salary of between RM300,000 - RM600,000! That includes executives in industries such as healthcare, financial services, technology, engineering, manufacturing, and more.
Data from job platform Indeed shows managers also enjoy a sizeable salary. The average salary for a manager in Malaysia stands at approximately RM60,000 per year, significantly higher than the ~RM24,000 average Malaysian salary.
While levels of pay are often heavily reliant on the size of a company and sector of operation, the potential for those employees who achieve management roles can be eye-watering! 
According to a June 2021 study of CEO salary undertaken by the New York Times and reporting firm Equilar, the median compensation for the top 200 CEOs is USD19.7 million! The highest paid CEO in the world—Alexander Karp of Palantir Technologies—received an almost heart-stopping remuneration of USD1.1 billion.
The payment arrangements for C-suite executives are understandably complex, and often include share options based on company valuations. This can significantly inflate the value of a C-suite role, but also shows the fundamental link between company performance and those leaders which inspire that success. 
This same link between salary and success is often seen in B-level and D-level management roles. Working for a company that you steer towards profit means your own salary is likely to improve along with it, recognising the hard work and guidance you have delivered to the company. 
The first step matters
Being a manager is by no means an easy task. It requires years of experience and complex business understanding. It comes with significant responsibilities and expectations for your working life. That means building on the right foundation throughout your career is key to achieving the goal. 
There is no single answer to the question of how to become a CEO or a top manager. What is clear is that commitment, dedication, determination, and business understanding are key. 
Sunway University Online's pioneering MBA will provide the framework on which to build that understanding. It is designed to provide a future-looking business education designed to prepare the leaders of tomorrow, with subjects such as Foresight Leadership and Management and Leading in the Age of Disruption preparing you to respond to our modern digital business landscape.
Understanding the business skills, tools, and techniques to analyse and engage with business opportunities is essential. But equally important in our dynamic business environment is the ability to respond in an agile way to changing conditions. The Design Thinking and Creative Problem Solving subject is the first module on our online MBA, emphasising just how vital it is to be able to respond to problems, disruptions, and opportunities. 
We've looked before at the question of is an MBA worth it? Even in the simplest terms, the evidence indicates that investing in your business future can deliver improved opportunities and greater salary expectations. 
When you consider the ultimate goal of achieving management status, you begin to see what the destination of your journey in business could deliver. Our world-class 100% online MBA offers a flexible first step on that journey. Where you end up is all down to how you build on those foundations.