Empowering Flexible Further Studies for Parents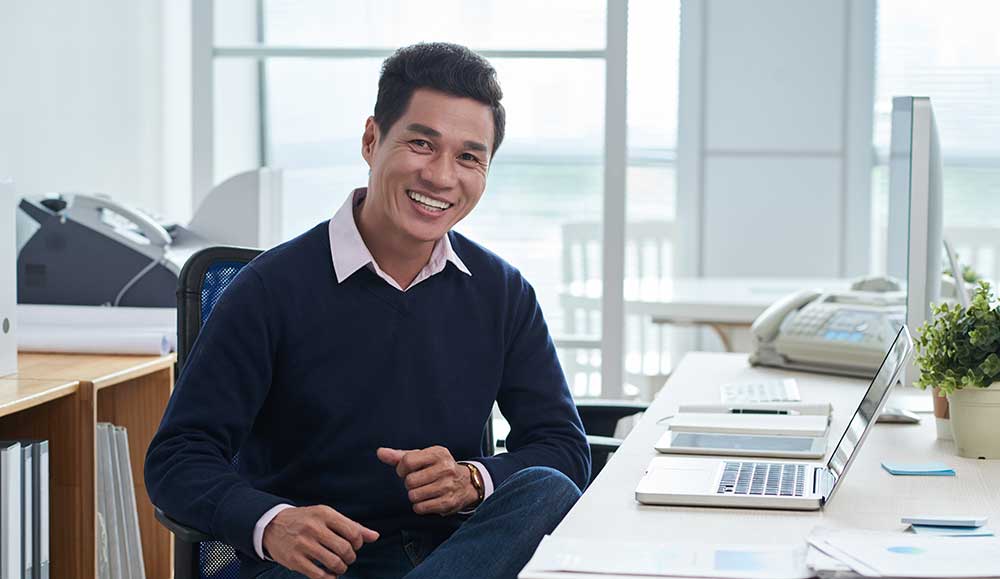 Balancing your life with further studies isn't always easy — but it can be even more challenging if you're a parent or caregiver.
Let's face it, engaging in further studies can be a significant commitment. Traditionally, you've got the lectures, the assignments, the networking to do. It's particularly challenging attempting to meet rigid timetables and attend physical locations when you've got a responsibility to look after children or family.
With Sunway University's online programmes, your dream of further education has become much more achievable. Our 100% online MBA is designed to break traditional on-campus study barriers offering a flexible world-class business education that works around your lifestyle. That means you don't have to put your career aspirations on hold while looking after a family.
The power of a flexible education
Education is a powerful enabler, it uplifts individuals and unlocks future job opportunities. More than 40% of Malaysians go on to some form of tertiary education according to official statistics from The World Bank. Nobody should be left behind simply because of the challenges of balancing their existing responsibilities.
The 100% online MBA from Sunway University Online is designed to provide a flexible solution that meets your needs. There's no more rushing to pick up a child from school then heading out into traffic to make a late-night lecture. There's no expensive balancing of costs between attending classes and responsibilities at home.
An MBA is a valuable opportunity, and one that should be accessible to all. The benefits of an MBA are evident in the additional earning potential and new career possibilities it can unlock. According to a study by the Graduate Management Admission Council, 96% of MBA graduates from around the world regard their degree as good, excellent, or outstanding value, and 82% believe that business school boosted their earnings potential.
100% online MBA at Sunway University Online
Flexibility isn't just part of our MBA, it's what the whole programme was designed around. The 100% online programme is available whenever, wherever you want it. All you need is a suitable laptop, computer, or mobile device, a good internet connection, and the will to succeed!
Whether you're commuting home from work or sitting down to study after putting children to bed, Sunway University Online MBA has you covered.
Unlike a physical on-campus course, Sunway also offers a far more flexible uptake. Since we're not restricted by scheduling access to physical classrooms, we can provide five entry points per year in January, March, May, July, September, and October. That makes it much easier to schedule your study around aspects like school holidays or busy periods.
The programme length is 26 months of part-time, flexible online study. Students must complete nine core courses across a range of topics, with the option of two electives from Business Analytics or Leadership, and one double-value research project.
Courses within the online MBA are studied one at a time, in seven-week blocks. This provides a dedicated period of study where students can build experience and confidence in a given subject, without having to juggle multiple different modules at once. At Sunway University Online we are passionate about this process, and the opportunity it provides to build genuine topic understanding.
Don't worry about struggling to attend rigid online course times either. All lectures and resource materials are available online and on demand. The Sunway University Learning Management system provides a convenient central platform for your coursework and resources. That means if the kids refuse to go to bed, you can just log on and catch up later when it's convenient for you.
Students at Sunway University Online also benefit from a dedicated Student Advisor. So if you need some welcome support to guide you through the process, from admin to just a positive voice on the phone, a Student Advisor is on hand to assist.
Your Student Advisor will also offer practical help in designing your study schedule. This provides an adaptable approach that allows you to design a schedule that fits with your preferences and commitments. Even if one subject is temporarily missed or skipped, you're still supported to complete your study within the 26-month programme period.
Flexibility also extends to that all-important financial question. As a student at Sunway University Online, you only pay for one subject at a time as you progress through the programme. That makes a flexible, affordable programme choice that allows you to pay as you go. It's the perfect solution for families, parents, and students alike.
An online MBA is a huge opportunity for anyone, and thanks to our 100% flexible online approach, it's now an opportunity for everyone.
Contact Sunway University Online or explore the online MBA programme page to find out more.