Mastering the Skill of Data Visualisation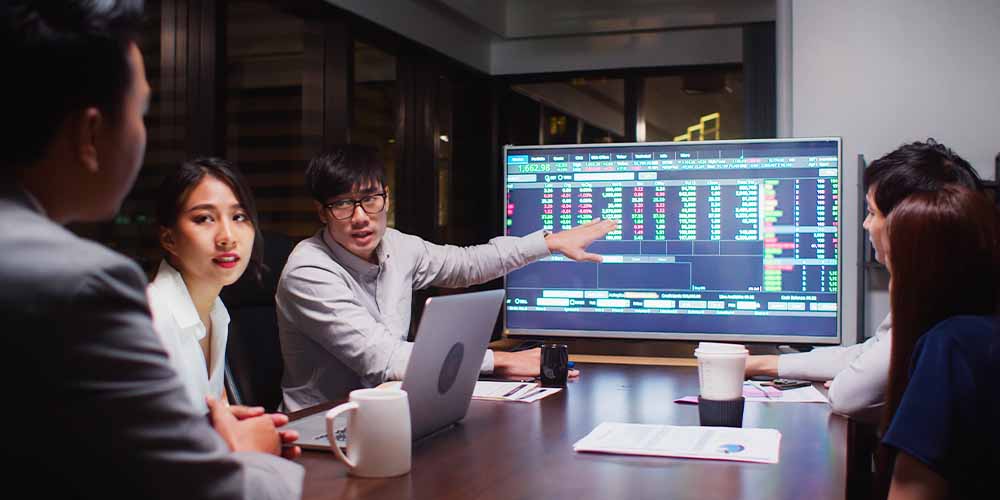 Data offers a remarkable opportunity to transform our world—optimising business efforts, improving efficiency, and guiding better decision making across all industries and sectors of operation. 
We've touched on the importance of effective data through the vital 5Vs of big data. As a student of our Master of Data Science programme that understanding will be critical. The reality is, however, that capturing and understanding data isn't enough. Data scientists need to be able to present their findings in a meaningful way. 
Our Master of Data Science programme puts that imperative at the heart of your education, meaning not only will you be able to understand often complex data, but you'll be equipped to help decision makers understand it too through developing critical data visualisation and communication skills.
Data visualisation will power your opportunity
Transforming raw data into actionable business understanding is one of the greatest challenges in our modern digital environment. Capturing billions of data points across a global organisation is of little value if you don't know what those data points mean. 
Data visualisation is about the discipline and technologies which allow us to display data in useful ways. It is a pathway to transform data into consumable visual context, using graphs, maps, infographics, and other such visual aids. This allows stakeholders to more readily assess and understand data, presenting it in ways that not only allow us to visualise static points, but also enable us to understand trends over time. 
Hal Varian, Chief Economist at Google, once said "The ability to take data—to be able to understand it, to process it, to extract value from it, to visualise it, to communicate it—that's going to be a hugely important skill in the next decades." 
Digital transformation is expected to drive over USD 6.8 trillion of investment between 2020 and 2023. Delivering a return on that investment requires tools, understanding, and techniques that allow that data to readily inform the choices that organisations make. That's why visualising data offers such an important discipline for data scientists to master. 
Visualising better decisions
Data visualisation provides a path for analysts and decision makers to get to grips with the sheer volume of data generated in our world today. That's particularly important when you consider the automated data generated and translated by technologies such as machine learning and artificial intelligence. Having methods to turn that into visual data that human analysts can understand is essential. 
We know why data is important. Data science is powering up industries around the world, improving efficiency, enhancing productivity, reducing waste, and generally delivering positive improvements to both business and society. Visualisation is the pathway to unleash that opportunity.  
Communicating the value of data
Data visualisation allows us to identify when and where opportunities or challenges exist, and speed up the process to respond to them. What it also provides is a powerful platform for data scientists to communicate their findings in a way that can better support decision making.
A data scientist may be able to pick out complex understanding from a simple table of data, but there's no guarantee that the CEO of a business will be convinced by a string of numbers. A visual aid allows even non-technical decision makers to understand and inform themselves with data.  
The Data Visualisation and Communicating Value course of our Master of Data Science programme offers a dedicated look at this essential area of data science. It will teach you both the art and the science of taking complex data and transforming it into readable graphics in order to support knowledge discovery and informed decision making.
This course will enable you to develop the principles, techniques, and practical skills necessary to communicate data insights clearly and effectively through data visualisation. It will introduce you to methods to acquire, parse, analyse, and visualise a wide range of data types. 
The goal of Data Visualisation and Communication is to help you implement and apply the theory, backed by familiarity with appropriate tools, to clearly communicate information on data with visual support. 
By the end of the course, you will be able to conduct exploratory data analysis to investigate data science problems, apply your knowledge and perception to evaluate potential visualisation methods, and use data visualisation to effectively communicate to decision makers in a wide range of settings.
Data offers remarkable potential to transform our world. As a data scientist, you will be the conduit through which that data is transformed from raw information into actionable insights. With the right data visualisation, you could help inform better decisions, better businesses, and better societies.